Dec
12
Wed
Winter Light Art Exhibit Opening

@ The Gallery
Dec 12 @ 5:00 pm – 7:00 pm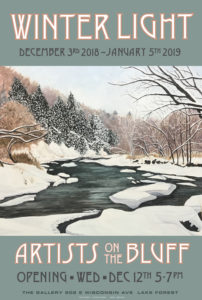 Exhibition Opening Posters are for Sale in The Gallery
The show includes
Small Gifts
and paintings, photography, and jewelry featuring the following artists: 
Tobi Abrams

Adrienne Aaronson

Sandie Bacon

Sam Beckman

Jacqui Blatchford

Susan Block

Beverley Bonner

Cynthia Burton-Brown

Ed Crestoni

Nancy Dewar

Pat Hawkins

Liz Jensen

Leslie Lenz

Bob London

Sue MacFarlan

Beth McKenna

Phoebe McMillan

Joan Minsky

Peggy Raasch

Edie Ottoman Risher

Ginny Roeder

Phillip Ross

Susan Russell

Les Scott

Amy Segami

Alison Tompkins

Barb Varavadekar

Georgia Velisarius
If you can't make it tonight, come by another time.
Show ends on January 5, 2019
AOTB Gallery is located in The Gallery and is always open when
The Gallery is open.


We suggest calling The Gallery 224-544-5961 to verify the hours.
Jan
6
Sun
Previous Art Pick Up / New Art Drop Off

@ The Gallery
Jan 6 @ 11:00 am – 12:30 pm
PLEASE NOTE: the hours for this day may change. We suggest contacting our Gallery Manager, Phillip to verify these pickup/drop off hours for this day.
Gallery Exhibitors Notes: Bring your signed consignment contract and show fee with you to the artwork drop off.
Links to forms: