When:
April 13, 2018 @ 5:30 pm – 7:30 pm
2018-04-13T17:30:00-05:00
2018-04-13T19:30:00-05:00
Where:
The Gallery
202 E Wisconsin Ave
Lake Forest, IL 60045
USA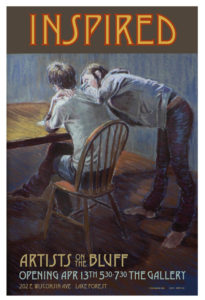 Exhibition Opening Posters are for Sale in The Gallery
Please subscribe to our Event Notices by entering your name in the following form:
You are very important to us. You are why we make art.
We will not share any information about you. Never.
The show includes paintings, photography, and jewelry featuring the following artists: 
Marcia Babler
Sandie Bacon
Anne Becker
Susan Block
Darlene Bock
Diane Czerwinski
Nancy Dini
Carole Gilberg
Jerry Hosten
Katherine Kalinowski
John Kirkpatrick
Lezlie Lenz
Sue MacFarlan
Beth McKenna
Phoebe McMillan
Joan Minsky
Melissa Pierson
Edie Ottoman Risher
Donna Sands
Amy Segami
Julianna P. Sheahan
If you can't make it tonight, come by another time.
Show ends on May 6, 2018
AOTB Gallery is located in The Gallery and is always open when
The Gallery is open.
The Gallery's current hours are:
Sunday Closed
Monday Closed
Tuesday – Thursday 5–8PM
Friday – Saturday 5–9PM
We suggest calling The Gallery 224-544-5961 to verify the hours.