When:
July 7, 2017 @ 5:30 pm – 8:00 pm
2017-07-07T17:30:00-05:00
2017-07-07T20:00:00-05:00
Where:
The Gallery
202 E Wisconsin Ave
Lake Forest, IL 60045
USA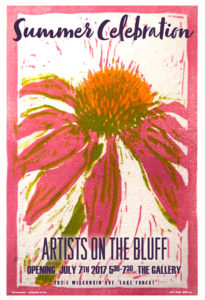 Exhibition Opening Posters are for Sale in The Gallery
Exhibiting Artists:
Jacquie Blatchford – Carol Breyer -Artists on the Bluff Gallery Paulette Colo – Nancy Dewar – Nancy Dini – Liz Jensen – Sandy Kalas, Meredith Kopelman – Elizabeth McKenna – Doris Monti – Mary Neely – Edie Ottoman Risher – Trudy Rosell – Les Scott – Amy Segami – Juliana Sheehan – Nancy Strahinic – Dan Sylvester – Kay Thomas – Stacy Vermylen
If you can't make it tonight, come by another time.
Show ends on August 5, 2017
AOTB Gallery is located in The Gallery and is always open when
The Gallery is open.
The Gallery's current standard hours are:
Sunday Closed
Monday Closed
Tuesday 4–9PM
Wednesday 4–9PM
Thursday 11AM–2PM, 4–9PM
Friday 11AM–2PM, 4–9PM
Saturday 11AM–2PM, 4–9PM
We suggest calling The Gallery 224-544-5961 to verify the hours.