When:
February 1, 2018 @ 6:30 pm – 8:30 pm
2018-02-01T18:30:00-06:00
2018-02-01T20:30:00-06:00
Where:
Lake Bluff Rec Center
355 W Washington Ave
Lake Bluff, IL 60044
USA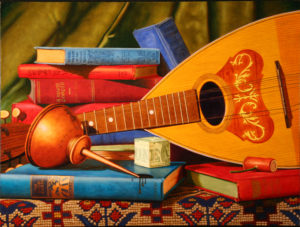 Steven T Jones will demo how to mix the glue based tempera emulsion used in the Technique Mixte. He will show how dry, white pigment can be ground into the emulsion. This "tempera" paint can be applied in translucent layers over a prepared canvas.  The canvas contains an exact drawing covered with an "imprimatura" –toning the surface. The emulsion white is applied in as many layers as needed.
Jones studied painting in Paris for many years in the atelier of Patrick Betaudier, where he learned the Technique Mixte.  This method of painting uses a solid tempera emulsion underpainting with subsequent oil glazes, similar to the 15th Century Flemish approach.
http://www.steventjonesart.com